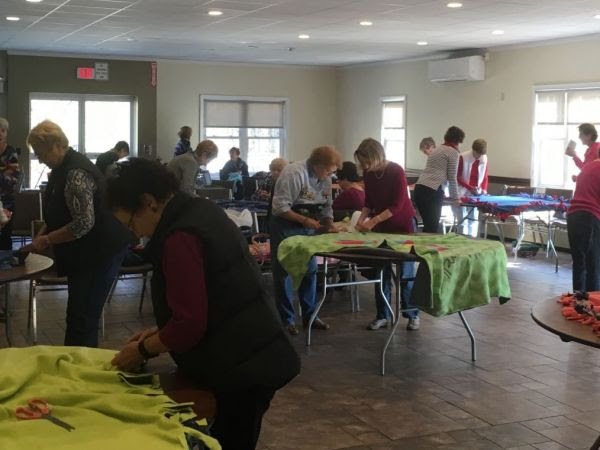 Nimble Fingers of the Woman's Club of Danbury & New Fairfield
WCNF members pictured are: Anne Skandera, Karla Ryerson, Kathy Krieger and Rosemary Sarsfield.
On a sunny Autumn day last week at Hatter's Park in Danbury, twenty-nine pairs of busy hands made thirty blankets. The Danbury Regional Hospice was thrilled to receive the colorful, cozy, fleece "No-Sew Blankets". It was perfect timing as their supply was getting low. This is the third year in which the Home Life Committee has volunteered time and materials in creating these much needed items. In the Spring, the ladies will meet again to make many more warm blankets for Hospice.
This post is contributed by a community member. The views expressed in this post are the author's. Registered users are welcome to post on Patch.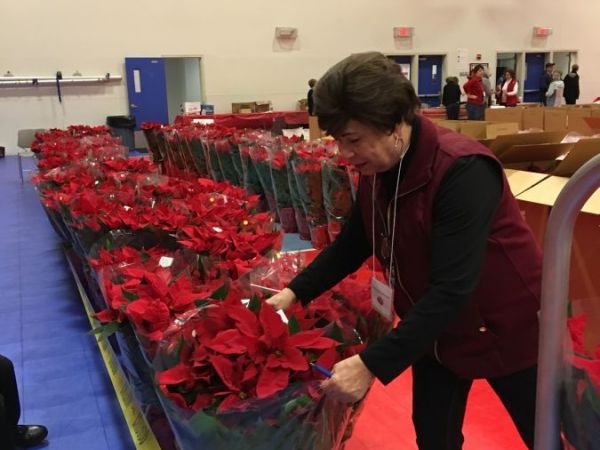 3000 Poinsettias Arrive at the PAL Building to be Distributed
Photo caption: Ann Miller is distributing a Poinsettia plant at the 2016 WCDNF Poinsettia Day.
The members of the Women's Club of Danbury /New Fairfield arrived at the PAL Building in Danbury on Tuesday November 29 for their 19th year of distributing Poinsettias. The plants were sold by members as the club's only fundraiser. Raising approximately 20,000 dollars which is given back to local charities within the greater Danbury area including scholarships to the six local high schools. This is in keeping with our motto of "Sharing, Caring, and Giving". The club would like to give a special Thank-you to the Danbury Men's Club and students from Western Connecticut State University for their help in the distribution of the Poinsettias.